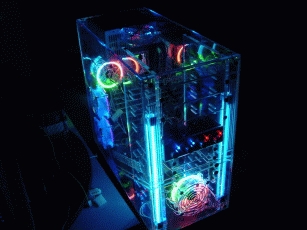 If you have a passion for PC games, you know that no off-the-shelf system is going to hack it. And being so passionate, you demand perfection from the system you ultimately buy.


Far from child's play, PC games are the most demanding applications your computer will likely ever run. Because living and playing at the bleeding edge isnt easy, it is essential that you sieze every advantage you can. Video cards, hard drives, memory, and CPU must all work at peak capacity to deliver the ultimate gaming experience.
require only the bestGaming Systems must take advantage of
The perfect gaming computer is definately not
accuracy, speed,
Whether you need assistance with your home or business computer, Nascent Computing is ready to help. Please take a moment to look over the various other services we provide, or join the growing online community at our Forum. If you have any questions, or need immediate service contact Nascent Computing today!

>Custom Computers
&nbsp &nbsp &nbspWhy Custom?
&nbsp &nbsp &nbsp——>Gaming Systems
&nbsp &nbsp &nbspHome Theater PC's
&nbsp &nbsp &nbspExecutive Workstations
&nbsp &nbsp &nbspCAD
&nbsp &nbsp &nbspThe Rebate Business
&nbsp &nbsp &nbspFAQ

Repair
&nbsp &nbsp &nbspViruses/Spyware
&nbsp &nbsp &nbspData Recovery

Upgrades
&nbsp &nbsp &nbspComponents
&nbsp &nbsp &nbspPeripherals
&nbsp &nbsp &nbspCase and Modifications

Services
&nbsp &nbsp &nbsp Maintenance
&nbsp &nbsp &nbsp Cleaning
&nbsp &nbsp &nbsp Networking
&nbsp &nbsp &nbsp Internet

Contact Us
&nbsp &nbsp &nbsp
Forum
&nbsp &nbsp &nbsp
Links
&nbsp &nbsp &nbsp
&nbsp &nbsp &nbsp
© 2002-2009 Nascent Computing Little Rock AR